Bearing Design: What You Should Know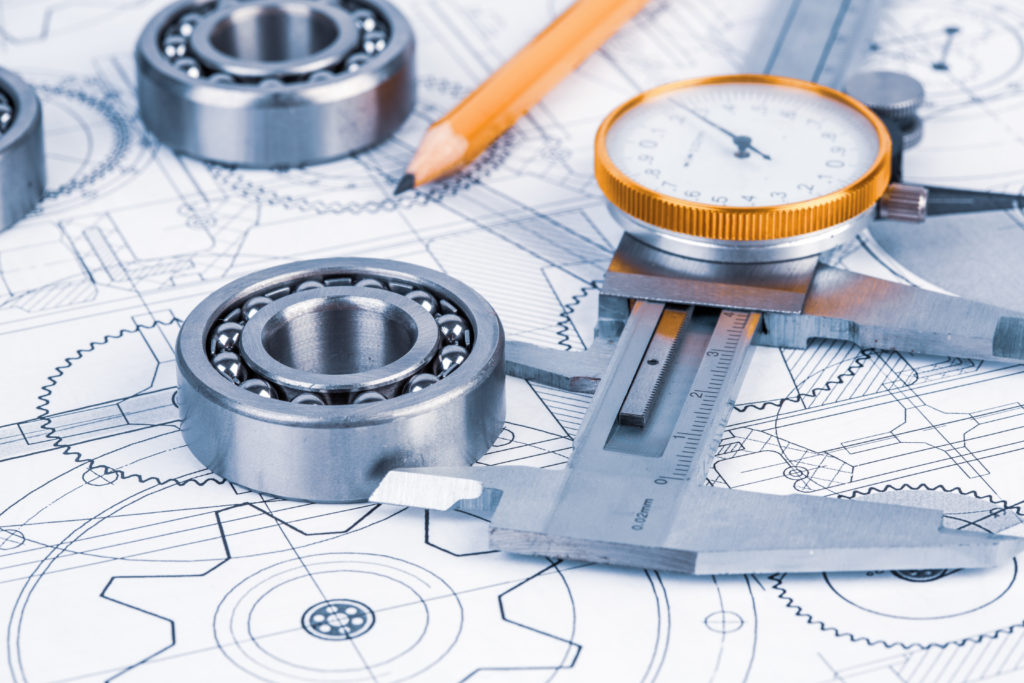 Bearings are critical components of industry. Automobiles, planes and trains, would not be able to function without bearings. Understanding the importance of bearings, Consolidated has focused on the key elements of various bearing types.
Types of Loading
Axial (Thrust):  designed to withstand force in the same direction as the shaft, this is called an axial, or thrust load.
Radial:  designed to withstand forces that are perpendicular to the axis of the shaft.
Types of Bearings
There are many different types of bearings that are effective in a wide variety of applications. Here are the most common bearings.
Ball Bearings
Ball bearings are found in a wide array of products, such as electric motors and inline skates. The main function of a ball bearing is to reduce friction while helping an object rotate smoothly along an axis. These bearings can handle both radial bearing and thrust loads and are usually found in lighter duty applications
The load is usually transmitted from the outer race, through the ball, and onto the inner race. Since these bearings are cylindrical, they are in contact with the inner and outer races at small points which enables them to rotate smoothly. 
The life of a ball bearing depends on the application, maintenance and lubrication.
Roller Bearings
Roller bearings are often utilized in heavy-duty and slower-moving applications such as material handling equipment. They can withstand significant radial loads and are guided by their inner or outer rings. The roller is cylindrical, and the contact between the outer and inner rings is separated. This helps to distribute the load over a larger area, allowing the roller bearing to handle heavier loads than the ball bearing. The lifespan of these roller bearings is similar to ball bearings and dependent on proper maintenance.
Pillow Blocks
Pillow Blocks have radial bearings inserted in a housing that can be attached to any surface parallel to the axis of rotation.  Pillow blocks are typically manufactured from cast iron and are available in many designs. The housing, or cap, of a split pillow block, can be separated from the base, while the unsplit pillow block and its housing are made from one solid piece. These bearings have a relatively long lifespan compared to most other bearings.
Cam Followers
Cam Followers are radially loaded bearings with an integrated shaft. The primary purpose for cam follower bearing is to facilitate linear motion. They are often used in conveyors in the food and beverage industries and other light-load applications. They require minimal maintenance and can have a short to moderate lifespan depending on their application.
Wheel Bearings
Wheel bearings are sets of steel balls that are contained within races. These bearings help wheels spin by reducing as much friction as possible. They are used in nearly every form of transportation, including automobiles, trains and bicycles. An automobile's wheel bearing is often placed on the metal axle within the hub. The hub holds the lug bolts used to attach the car's tires. These bearings have long lifespans, but they can decrease depending on vehicle type and load.
Thrust Bearings
Thrust Bearings allow rotation between two objects. However, thrust bearings are designed to support higher loads at lower speeds. They can also operate at high speeds, assuming that the application has a lighter load. Thrust bearings are composed of two raceways which can be flat or grooved, and can contain balls or rollers.
Still have questions about types of bearings and functions? Curious about thrust bearings versus radial bearings? Or maybe you are looking to learn more about the application of deep groove ball bearings. 
We are sure our extensive catalog and bearings online store can help provide the answers for which you are looking.